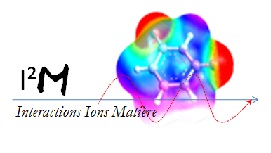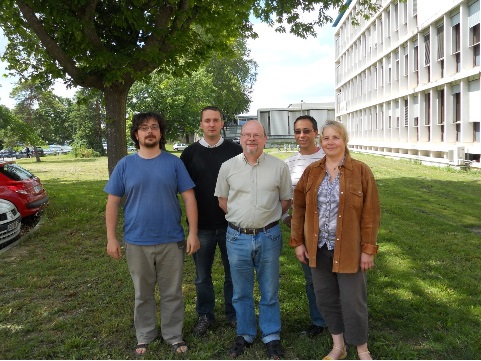 De droite à gauche : Martine Sence(MDC), Pierre Caffarelli(MDC), Patrick Moretto-Cappelle (CR1), Jean-Philippe Champeaux (MDC, resp.) et Romain Casta (ancien doctorant).
Notre équipe de Recherche est constituée de quatre chercheurs permanents (voir photo). Nous travaillons à l'étude des interactions entre des rayonnements ionisants au sens large (électrons, protons, rayon X et UV) avec des molécules ou nanoparticules d'intérêt biologique ou astrophysique. Notre recherche s'appuie sur une ligne d'ions légers pulsée à basse énergie (10-150keV), couplée à un montage expérimental dédié :
L'expérience SWEET (Stellar Wind and Electrons interactions on astrophysical molecules) - Experiment and Theory
L'équipe I²M s'appuie sur un savoir-faire expérimental solide en matière de spectroscopie atomique et moléculaire et collabore, en parallèle à ces expériences propres, à divers projets et groupements de recherche nationaux et internationaux.
Groupement de Recherche dont fait partie l'équipe I²M :

Les laboratoires NEXT

GDR 3533 EDIFICES MOLECULAIRES ISOLES ET ENVIRONNES

WORKING GROUP : NANO-IBCT 2013

EUROPEEN COOPERATION IN SCIENCE AND TECHNOLOGY

EUROPEAN SPACE AGENCY

ACTION SPECIFIQUE TRANSVERSE (AST) Molécules et Grains

L'Institut de Recherche en Astrophysique et Planétologie (IRAP)